Why Use a CRM for Linkbuilding
If I get a new client in the finance industry, I can pull a view from CRM and have multiple links ready to go and deliver immediate value for the client. I could use Google Sheets for this, but that's an error-prone solution that's missing a lot of functionality.
There are some existing link-building tools out there that offer CRM functionality. BuzzStream and Pitchbox are two good options, but they're relatively expensive. We wanted a simple, inexpensive CRM that could serve as a permanent repository for proprietary link data.
Why We Chose Zoho Bigin
We already use Zoho CRM as our core sales/marketing system, and we didn't want to mix linkbuilding data with our core CRM data. We wanted a separate, simple CRM to manage linkbuilding data. This made Zoho Bigin an obvious candidate. It's a simple, easy-to-use alternative to Zoho CRM with a simple, kanban-style, drag-and-drop interface. After researching the software, here are the reasons we chose Zoho Bigin.
$7 a month: I get 90% of the features I need for only $7 a month.
Minimal Configuration: The native objects (contacts, companies, and deals) come with very few fields preconfigured and this saves time on customization.
Integrations: Since we're already using Zoho CRM and Zoho Campaigns, using Bigin allows us to sync data to our existing campaign software.
Convenience: By using Zoho Bigin, we get the minimal CRM experience we're looking for, but it still integrates with the rest of Zoho's products.
Initial Customization
We use the company module for the bulk of our work so we customized the company form to fit our needs. We removed any fields we didn't need and added new fields. Keep in mind, you have a limit on the number of custom fields you can add so reuse native fields when possible.
After our customizations, these are the fields we have in the company module:
Company Name
Website
Link URL
Description (for notes)
Email Address
Phone Number
Industry
Site Type (blog, aggregator, association, etc..)
City
State
Annual Cost (for links that require payment)
This makes Bigin's company module the primary module for my use case. If you're on the least expensive paid tier, you can remove any fields from the company object that you don't need. Once this is done, adding new companies is fast, and easy.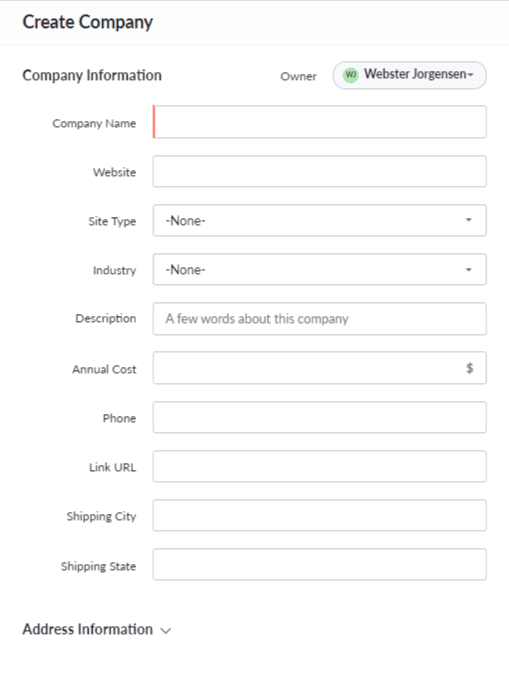 Bigin's Pipeline View
Zoho Bigin's pipeline feature enables you to visualize and manage your process using a Kanban-style project board. This allows me to drag and drop prospects around the board with easy without having to worry about the standard CRM data model.
Email Integration for Outreach
We don't do any bulk emails for links. Our strategy focuses more on high-quality links and individual emails. However, there are bulk email strategies that work so we tested the integration with Zoho Campaigns.
The integration only took a few minutes to get up and going. For some campaigns, you may be able to just use a field like Industry or City/State for segmentation, but if you need more nuanced segments, you can use tags. You can tag companies and contacts, and use those tags to create lists in Zoho Campaigns.
Conclusion
Overall, we're happy with Bigin as a link-building CRM. It has met our expectations as an easy-to-use CRM that ships with minimal configuration and can be customized. It was also easy to integrate with Zoho Campaigns to support outreach campaigns.
If I had a bigger budget I would take a close look at apps like Pitchbox, but for smaller operations, Zoho Bigin works well. I would recommend it for small digital agencies, and small to medium-sized in-house digital marketing teams.

Other simple, kanban-style CRMs like Pipedrive, Monday CRM, or FreshSales might also work well for this.